Find out details of upcoming performance opportunities in the 2016/2017 academic year. Online registration is required for all events. Some events are informal performance opportunities such as the Casio Masterclass; other events are competitive such as the Clementi Piano Competition. Early entry is advised for all events. [Events Listings]
The SE22 Piano School Awards Ceremony takes place on Sunday 22 January 2017 at the 1901 Arts Club in Waterloo. The event is open to all students. [More Information]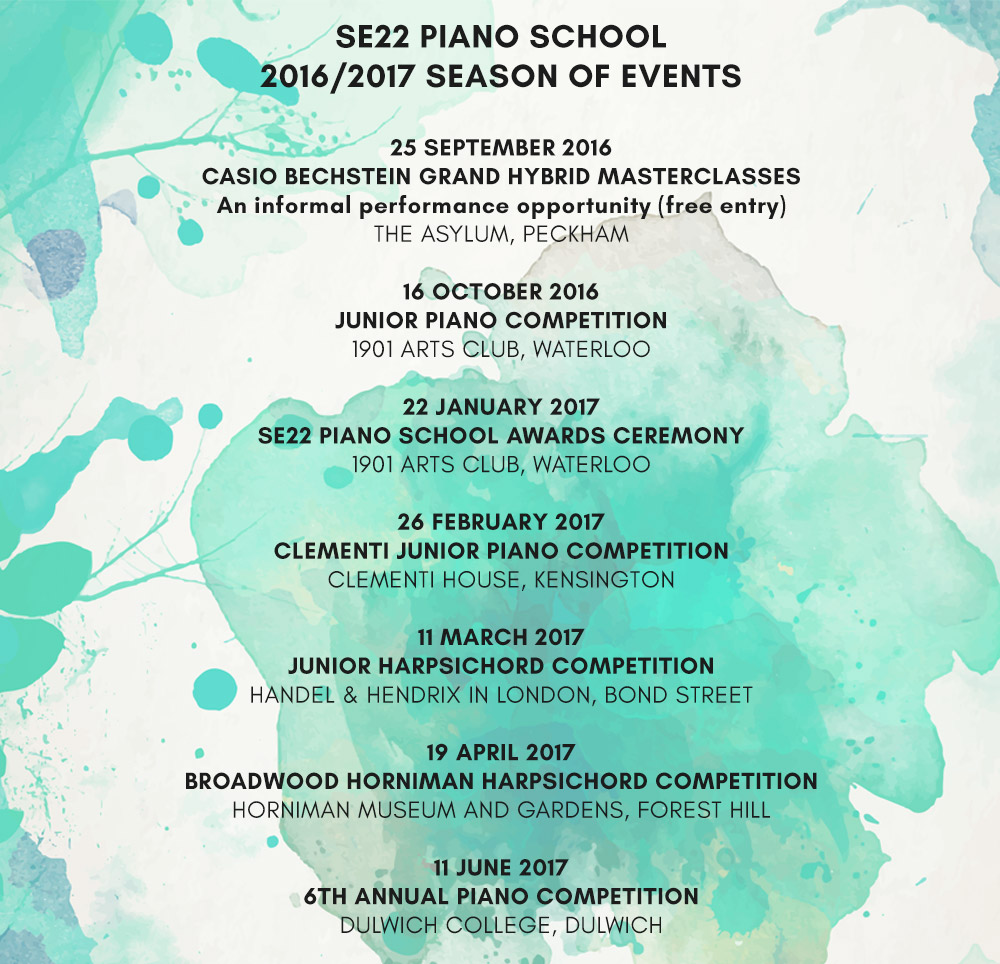 25.09.2016
Casio Bechstein Grand Hybrid Piano Masterclasses @ The Asylum
Enter a free performance opportunity for pianists of all ages to participate in an informal masterclass in this historic Grade II listed building in South London.
Lorraine Womack-Banning leads a masterclass for young pianists; Andrew Eales' masterclass is for adult pianists. All levels welcome. Participation is free but do book your tickets online. Audience members of any welcome (free entry).
16.10.2016
Junior Piano Competition in Waterloo
Entries are now open for a Junior Piano Competition. All pianists will perform on a Steinway C grand piano in this beautiful Victorian house in Waterloo. A panel of three adjudicators will listen to performances, offer verbal feedback and masterclasses (where time permits). Each class has a trophy for 1st place and medals for 2nd and 3rd place. All competitors receive a certificate and written feedback.
Adjudicators: Louise Ableman, Roberta Wolff and Lorraine Womack-Banning
22.01.2017
SE22 Piano School Awards Ceremony
Join us for an informal performance opportunity at the 1901 Arts Club in Waterloo.
[Book Tickets]
26.02.2017
Clementi Piano Competition
Following the success of the first Clementi Piano Competition held in March 2016 at the composer's former home in Kensington, we are delighted to announce that the event will run again in Winter 2017 at Clementi House in Kensington. Entries are now open. Early entry advised! [REGISTER]
Adjudicators: Gary Branch and Jean Cox
11.03.2017
Junior Harpsichord Competition @ Handel & Hendrix in London
An opportunity for young harpsichordists to perform in this historic home where Handel and Hendrix lived.
Adjudicator: To be Announced
19.04.2017
Broadwood Horniman Harpsichord Competition 
Horniman Museum & Gardens.
Adjudicators: Sophie Yates and Robin Bigwood
11.06.2017
6th Annual Dulwich Music Festival: Piano Competition
The Old Library, Dulwich College
Adjudicator: James Kirby