How To Succeed at the Music Aptitude Test
Prepare in advance and make sure that you are familiar with the style of tests that you will hear on the day. Try not to leave it until September to start researching the Music Aptitude Test. The long Summer break is the perfect time to practise for the test and make sure your Round 2 audition is ready to go too!
It's that time of year when we are just a few weeks away from the start of the Music Aptitude Test season. Some schools such as Claremont High School Academy and Ashmole Academy hold their MAT test earlier than most schools and this takes place in June.
The SE22 Piano School is running a competition on Instagram where you can ask us questions about the Music Aptitude Test and we will provide a video response over the Summer holidays on Instagram. You can also win a free 30 minute Zoom lesson if you ask us a question. See here for info: https://musicaptitudetest.wordpress.com/2023/06/27/win-a-1-to-1-music-aptitude-test-scholarship-preparation-lesson-in-september-2023/
Many students want to know how to pass the MAT test. This is a selective test that secondary state schools use to select a number of students each year, often bypassing the catchment requirements, hence the popularity of it amongst Year 6 students. It is becoming increasingly more difficult to secure a space at your desired local secondary school and living within the catchment area is not always possible due to the steep increase in house prices near schools rated Outstanding by OFSTED.
Most schools operate a 2-part Music Scholarship system. Without passing the MAT you will not be able to progress to the audition stage so it's very important to put the time in to prepare thoroughly for the Music Aptitude Test so that you can have the chance to perform for the scholarship panel. This is often on a separate date but some schools will put the two sessions on the same day.
Here is a video from our head teacher with information about the 1-to-1 sessions including whether you need to prepare and what the lesson includes:
We offer 1-to-1 Music Scholarship and Aptitude Test training on Zoom for students hoping to gain entry to a UK secondary school using the Music Aptitude Test criteria. We can prepare you for ANY school as they all use a very similar test or variant on a standard set of questions.
All sessions can now be booked online and new dates are added frequently. If you do not see a date you require then please save this link and check back regularly. https://www.eventbrite.co.uk/o/se22-piano-school-16475016451
Here is a sample of what we cover in the lesson. Each lesson is tailored to your individual needs and we will discuss at the start of the lesson your requirements.
I have been preparing my own students for over 12 years for Music Aptitude Test and scholarship entry to state secondary schools. Through the grapevine, other students from UK schools found out that I have produced training test materials for my students and they enquired about purchasing these, and also about having individual or group MAT training sessions. This led to me offering the tests for sale and also inviting students from any area to attend my monthly Aptitude Test sessions. It gives me great pleasure to receive so much feedback from students that have successfully passed the MAT and many continue to succeed at the audition stage. I am available to prep students for both test and audition. Do make sure you engage your music tutor in the process too as they can follow the plan of action we come up with at the workshops to ensure you are ready for the tests that take place in Autumn.
In addition to preparing many music students over the years, I'll be thinking about whether to send my daughter to a school on a scholarship place if she's keen to pursue music at secondary school and she now enters Year 5 and we start looking around local schools in South London. Many of our local schools such as Prendergast, Haberdashers, Norwood and Kingsdale offer music scholarships. Kingsdale also offer sports scholarships.
---
Here are a few things to consider when preparing your child for the Music Aptitude Test.
Have we left enough time to prepare for the test? Even though the schools say no musical knowledge is required, the tests are quite unusual and it's worth trying these at least a few weeks in advance but ideally 3 months ahead of the test date. Trying out the tests a few days before the MAT often causes panic and is not best advised!
What is the criteria for your chosen school? Each school has a slightly different MAT test and they often change it each year. As we, the teachers, are unable to sit these tests, we rely on the written guidelines and feedback from students that have sat the test to produce training test materials that will help familiarise you with the style of tests. These tests are not exactly the same and we tweak them to fit the feedback we receive from our students.
What pieces will you perform? We don't recommend performing pieces from the exam syllabus. Try and think outside the box and pick some pieces that will make a memorable performance. You want to stand out on audition day and you also need to make sure your pieces are known fluently and have been performed many times under pressure – either at home to an audience of friends and neighbours; at school assembly to a larger audience or in a competitive event. Everyone gets nervous so it's important to have performed your audition pieces under pressure several times so that you know you can beat the nerves!

Which schools use the Music Aptitude Test? This list is not exhaustive and is subject to change so please check your prospectus for current information.
Abraham Darby Academy
Ada Lovelace School
Ashmole Academy
Brentwood Ursuline Convent High School
Bristol Cathedral Choir School
Bushey Meads School
Cardinal Vaughan Memorial School
Chancellor's School
Chelsea Academy
Claremont His School Academy
Clement Danes
Cooper's Company and Coburn School
Croxley Danes
Dame Alice Owen's
Ealing Fields High School
Enfield Grammar
Haberdashers' Aske's / Prendergast Hilly Fields / Crayford Academy
Hertfordshire & Essex High School
Highgate School
Langley Grammar School
Lorraine's SE22 Piano School
Leventhorpe / The Bishop's Stortford High School / The
Mill Hill County High School
Old Swinford Hospital
Parmiter's School
Queens' School (Bushey)
Rickmansworth School
South West Herts School consortium
St Anne's Catholic School, Southampton
St Clement Danes
St Mary's & St John's CE School
St Marylebone Church of England School
St Paul's Way Trust School
The Hertfordshire & Essex High School and Science College
Twyford Church of England School
Uxbridge High School
Watford Grammar School for Boys
Watford Grammar School for Girls
We also have free videos to help you with the tricky bits of the test such as the Texture section: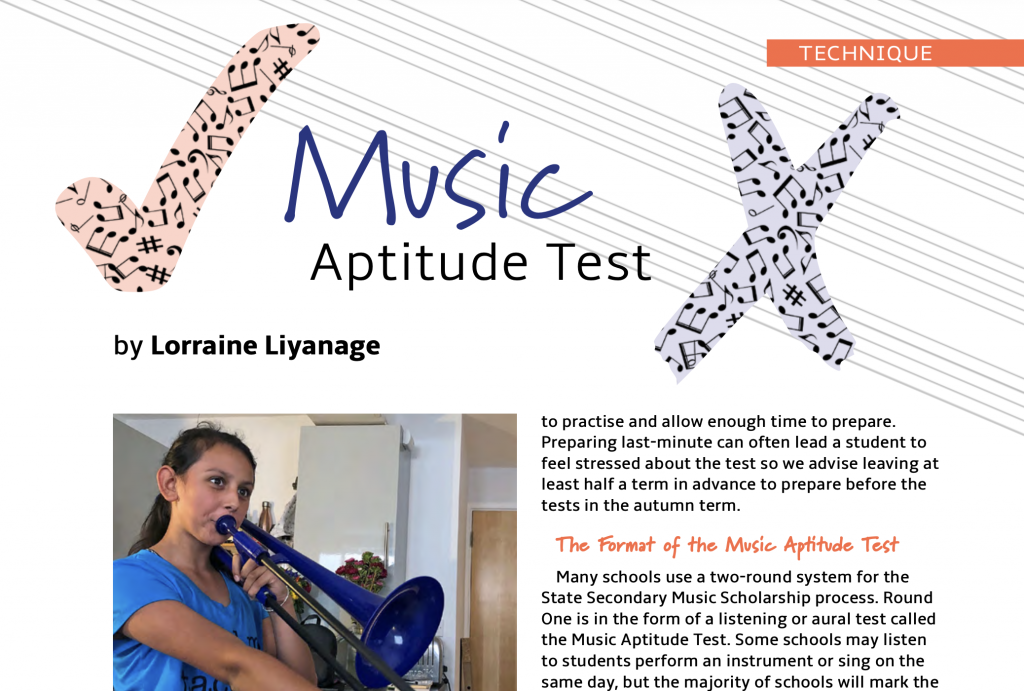 To ask us a question or advice about the Music Aptitude Test scholarship process, please visit this link:
https://app.eagledial.com/musicaptitudetest