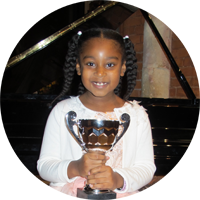 My name is Alanna Crouch and I am 7 years old. I love playing the piano especially when I am working on new pieces. I would like to be a concert pianist when I am older and I have to work really hard so I can play my best. I practise every day for a few hours and my mummy sits with me for most of the time but she lets me work on some of the easy pieces on my own so my sight reading will get better.
---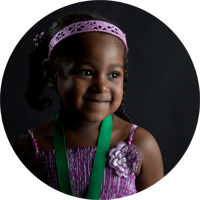 Last year I played a Mozart Piano Concerto with The Barbados National Symphony Orchestra. It was very exciting but playing with an orchestra is very different from playing on your own. I had to really listen to what the orchestra was playing to make sure I was playing the right parts at the right times and I had to pay attention to the conductor to see if she wanted me to slow down or get louder or softer. I really enjoyed playing with the orchestra so I must keep working hard so I can do something like that again.
Alanna is working on Grade 8 Piano. She studies with Lorraine Liyanage. She came 2nd in the Concerto Class and 1st in the Jazz Set Piece class at the 2013 Dulwich Music Festival.