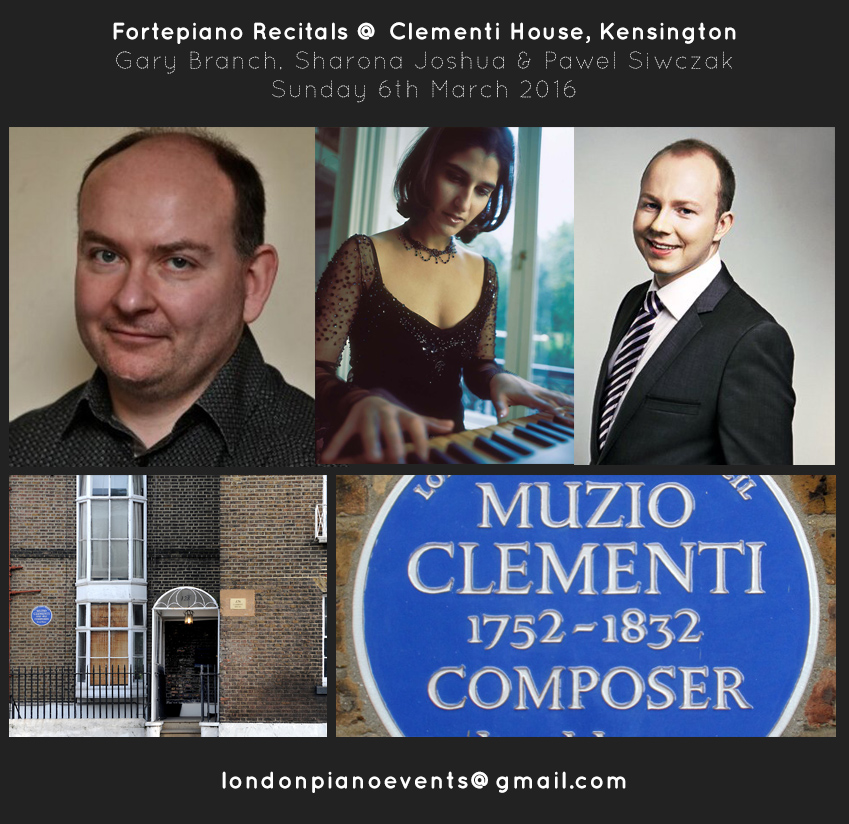 An afternoon of fortepiano recitals will be held at Clementi House on Kensington Church Street on Sunday March 6th 2016 from 2pm to 5pm. The recitals will celebrate the music of Clementi and his contemporaries. After each recital, there will be a drinks reception where you can meet the musicians.
2pm: Gary Branch
3pm: Sharona Joshua
4pm: Pawel Siwczak
Please note that tickets are not on sale on the door. Tickets can be purchased online in advance:
https://billetto.co.uk/search?text=fortepiano
Email londonpianoevents@gmail.com for more information.
2pm: Gary Branch
Muzio Clementi
Sonatina Op. 36 No.6 in D major & Sonata No.13 in B flat major
Jan Ladislav Dussek
Rondo on the Air, 'Oh dear! what can the matter be?'
3pm: Sharona Joshua
Muzio Clementi
Piano Sonata Op.40 No.2 in B minor (c. 16 min.)Ludwig Van Beethoven
Ludwig Van Beethoven
Piano Sonata Op.27 No.2 in C sharp minor 'Quasi una fantasia' (Moonlight Sonata)
4pm: Pawel Siwczak
Muzio Clementi
Fantaisie with Variations on Au clair de la lune, Op. 48 & Piano Sonata op. 40 No. 1 in G major
Jan Ladislav Dussek
Piano Sonata in F Minor, Op. 4, No. 3, "L'amante disperato"