Please read this guide carefully and keep it somewhere safe to refer to when you have any queries about your upcoming examination.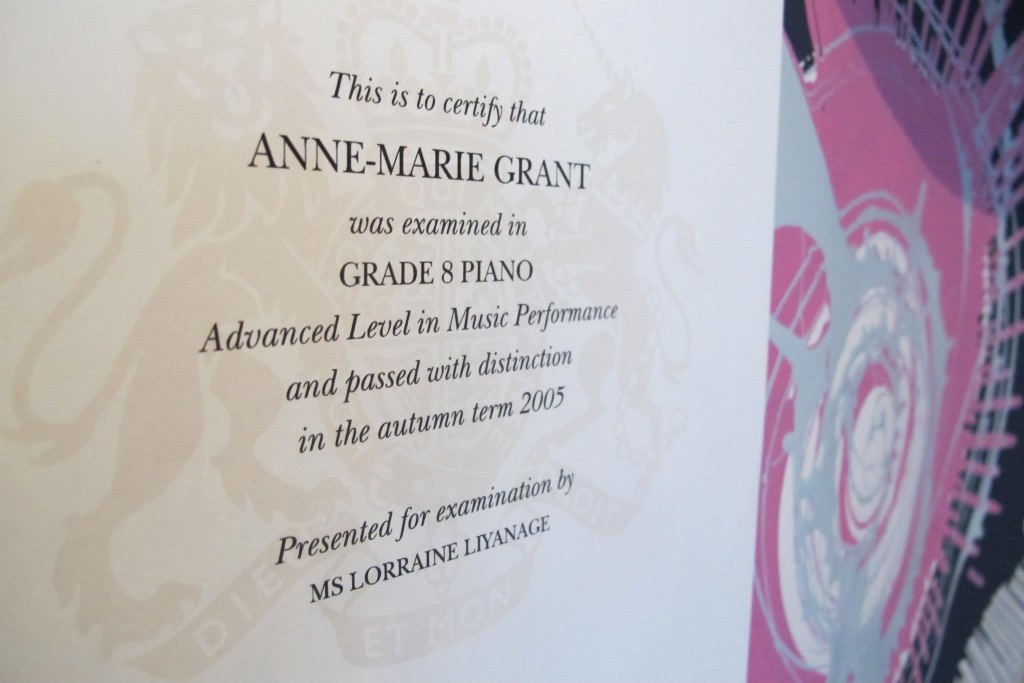 Exam Guide/FAQs
This useful guide has great advice and detailed information about your exam including the marking scheme: These Music Exams.
Deadline To Pay for Exam Entry:
The payment deadline has now passed.
Can I Pick My Exam Date?
No – the exam board allocate you a date.
When Will I Receive The Date?
We will inform you as soon as the exam dates are allocated. The dates are allocated approximately two weeks before the examination. We will expect some dates to start being allocated from early February onwards. Do not chase your exam date. I will give this to you as soon as it is allocated.
What Days and Times are Available?
Examiners work a standard office day, Monday to Friday, 9am to 5pm during term-time. Saturdays are not an exam day (but occasionally they are used if there is an excess of candidates at an exam centre). Specific dates cannot be requested.
How do I Change my Exam Date?
Await your allocated date, then call the exam board to see what other options are available. Be prepared to travel to a different centre to increase your date and time options if an after-school slot is required: 020 7636 5400.
Where is the Exam Centre?
Blackheath Conservatoire, 19-21 Lee Rd, London SE3 9RQ.
Where is the Nearest Parking?
There is metered parking at Blackheath station.
Arriving at the Centre
Aim to arrive ten minutes early to the exam centre. There is a warm-up piano and a timetable for candidates to use the piano one after the other. The steward will advise you when you can warm-up.
The Exam Room
Leave your bags, coat, hat, gloves, drinks, snacks, mum/dad etc in the waiting room. Only take in your books for your pieces. You do not need to take in your scale, aural and sight-reading books. The use of photocopies is not permitted at all so please ensure that you have the original book for your pieces. If you need to buy books, head over to South London Music and pick up what you need well in advance of the exam date (just in case they need to order in a copy of a book).
Tips for the Day
Say "hello" to the examiner when you enter the room and "thank you & goodbye" when you leave. Eye contact is very important to establish a rapport with the examiner.
If your hair flops down infront of your face, it obstructs the examiner's view of you. It is a good idea to clip your hair back or tie it up. Smart dress is not required but neatly presented is always a good idea. School uniform is fine. Don't forget your piano book. (Somebody always does, don't let it be you! There are no copies of the exam books available on the day).
Exam Programme Slips
You can save a bit of time on the day by filling this slip in advance (only fill in one copy). You can choose to play your pieces in whichever order you like. Bring the form to your lesson for your teacher to fill in if you are unsure what to do. Prep test candidates do not need to fill this in.
Exam Results
Graded piano exam results take 2 – 3 weeks approximately to arrive. Theory exam results take at least a month. I will send you the results as soon as I receive them so please do not chase 🙂
Watch an Actual ABRSM Exam
Here is a useful insight into what to expect on the actual day of the ABRSM examination.
Here is the Grade 1 examination video and also the sample of the Sight Reading piece:
[youtube=http://www.youtube.com/watch?v=D4FBBFsLNek]
Perform in Public
You can play all three of your exam pieces at our upcoming informal student recital on Sunday 22 May. Do sign up for this event as it will be the perfect opportunity to ensure all of your exam pieces are on target for being ready for exam day. For students that have not played in public recently, it's an excellent chance to gain confidence in performing. Sign up online: https://billetto.co.uk/en/events/informal-piano-recital