Category:
2015-2016 ABRSM Piano Syllabus
Congratulations to Isabelle on a Merit for Grade 1 Piano.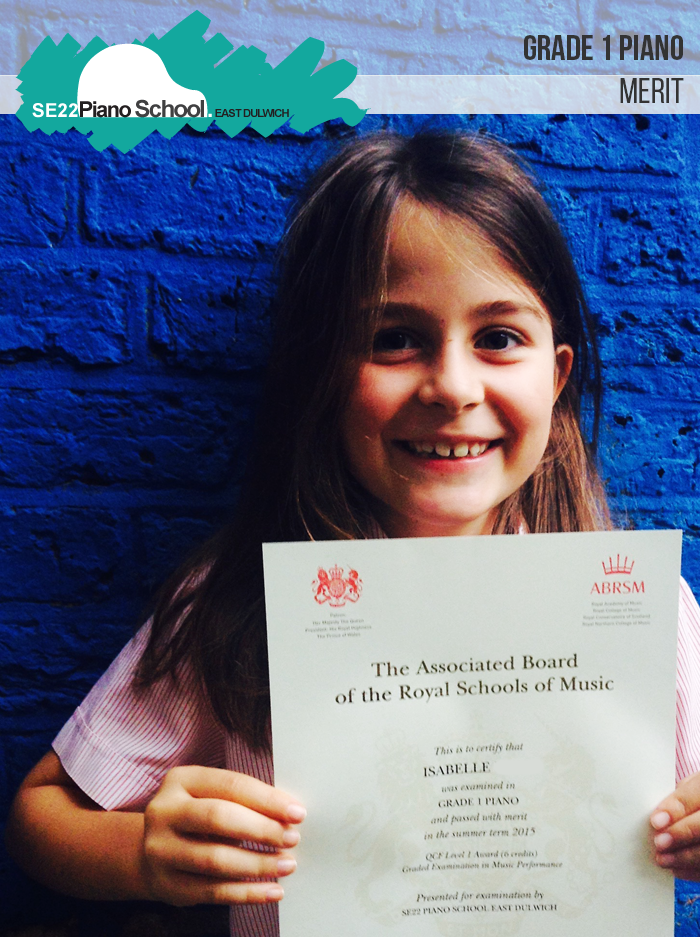 Hear Tim Barratt performing a selection of pieces from the ABRSM 2015-2016 Piano Syllabus, Alternative List. Tim having been a professor at the Royal Academy of Music for many years is currently Head of Keyboard at Dulwich College, London. He has toured extensively and broadcasts as well as being a solo pianist, accompanist and chamber music player. He adjudicates, directs workshops for teachers and is an examiner, trainer and moderator for the Associated Board and is mentor on the CT ABRSM. He also directs workshops for performers and teachers.
[youtube=https://www.youtube.com/watch?v=7r099tyeTRs]
Grade 1
B:1 Lajos Papp – Waltz
C:6 Kevin Wooding – The House on the Hill
Grade 2
A: 4 Jeremiah Clarke – A Trumpet Minuet
A: 5 L. Mozart – Menuett
A: 6 Mozart – Bird Catcher's Song
B:4 Leslie Fly – Hot Rolls
B:5 Lysenko – Raindrops
B:6 Podgornov – Little Flowers
C:4 Carol Barratt – Lazy River
C:5 Janina Garscia – Twisters
Grade 3
A:5 Haydn – Allegretto in Eb
A:6 Reinecke – Vivace
B:4 Gedike – Schulstunde (School Lesson)
B:5 Kullak – Witches' Dance
C:4 Mike Schoenmehl – Melancholy
C:5 Seiber – Foxtrot 14'20"
Grade 4
B:4 Bortkiewicz – Russian Peasant Girl 14:48
C:4 Bartok – Der Stampfer
C:5 Brian Chapple – Parade
C:6 Slavicky – A Czech Song

---
Graham Fitch's workshop includes Grades 4 to 7 pieces. Graham Fitch maintains an international career not only as a pianist, but also as a teacher, adjudicator and writer. He has been appointed to the piano staff at the Royal Welsh College of Music and Drama, and runs private teaching studios in South West London, and the West End of London. Even though he is associated with training specialist pianists at the secondary and tertiary levels, he is interested in teaching people of all ages and abilities – the only requirement is a level of interest and motivation. Currently, his youngest student is 9 and the oldest 78! Graham gives regular consultation lessons to piano teachers, and enjoys working with adult amateurs who are passionate about music and the piano.

[youtube=https://www.youtube.com/watch?v=cEwVSdo9lK0]

Grade 4
Morgenlied – Fuchs

Grade 5
Lied – Jensen

Grade 6
Theme & Variations – Schubert

Grade 7
Valse – Cui