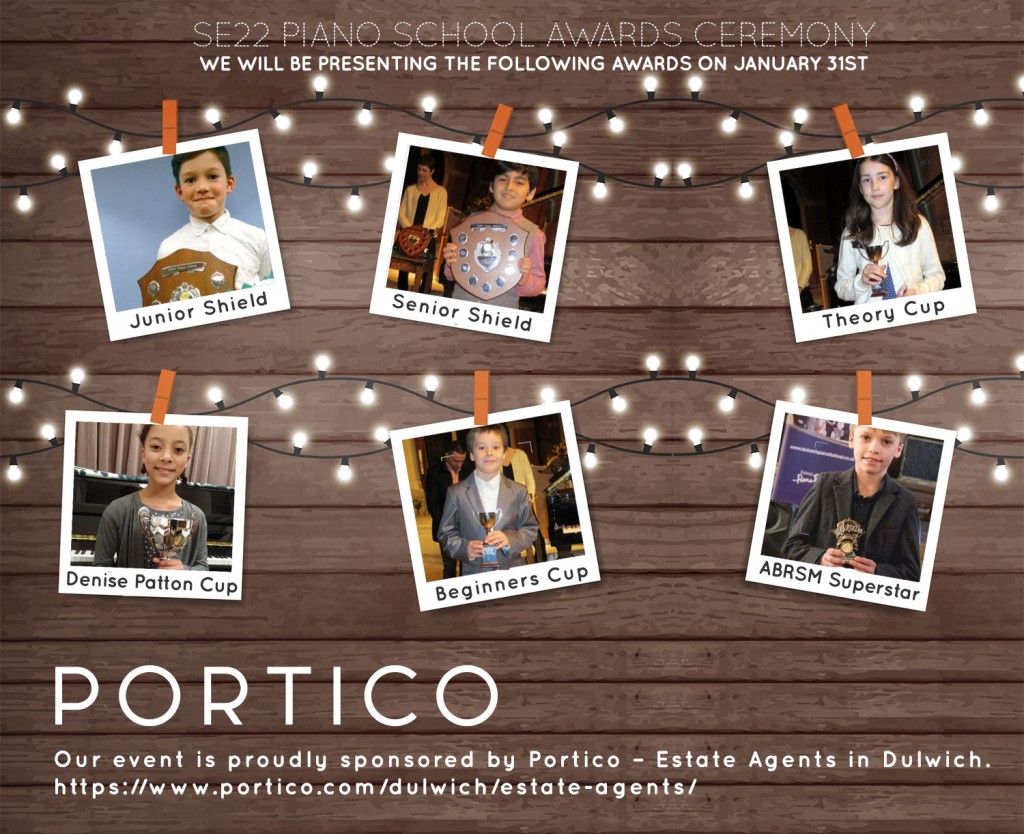 Sunday 31 January 2016
Doors at 12.30pm
St Bart's Church, 4 Westwood Hill, SE26. Parking on nearby streets.
Our event is proudly sponsored by Portico – Estate Agents in Dulwich.
Join us for our annual awards ceremony and recital.
We will have performances from pianists that are taking part in the Clementi Competition and Dulwich Music Festival. Entries are still open for both events.
PERFORMANCES:
Clementi Competition, March 2016:
A celebration of the music of Muzio Clementi at his former home in Kensington:
Edith Cooper: Allegro in C
Rowan Evans: Sonatina Op. 36 No. 6
Iris Smith: Away with Melancholy by Mozart (arranged by Clementi)
Alice Thomas: Arietta
Edmund Toms-Moate: Air from Judas Maccabeus (arranged by Clementi)
~~~~~~~~~~
AWARDS:
Medals: Alex ; Alexia; Alice; Alonzo; Colm; Damir ; Edmund ; Gabriel; Hannah; Luella; Luke; Micah; Nsikanabasi; Oliver; Olivia; Orla; Quincy; Rachel; William
Senior Shield for Exceptional Achievement: Rowan
Junior Shield for Exceptional Achievement: Edith
Beginners Cup: Sophia
SE22 Piano School Award: Alexander
Denise Patton Memorial Cup: Adam
ABRSM Superstar Awards: Isabelle H; Connor
Theory Cup: Isabelle R
Duet Ensemble Award: Alisha