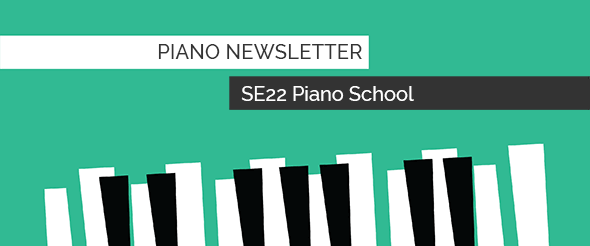 We're about to enter the Summer term even though I still have my 100-tog Winter duvet on the bed! Lessons start on Monday 16 April for 6 weeks. Nb. there is no lesson on Bank Holiday Monday May 7th. Lessons will finish on Saturday 14 July. Our teachers are available during the Summer break if you'd like extra lessons.
Have you signed up for our newsletter? We have spent the Easter break ensuring we are compliant with the new data laws (GDPR) and we will no longer be sending group emails to you unless we have your permission to send you these. We wouldn't want you to miss out on the latest piano news so do ensure you sign up to stay in touch. http://eepurl.com/dpjMo1
This term, our students will be working towards graded piano exams, the Dulwich Music Festival and also preparing for the 2019 Music Aptitude Tests.
The piano competition this year is held at Kingsdale School on Sunday 10th June. The Trinity piano exam session will be a week or two later so the festival is ideal pre-exam preparation.
The Summer term is a great time to start working through the Music Aptitude Test materials with your teacher. This will ensure you are fully prepared for the aptitude tests that take place in Autumn 2018 and very occasionally in early 2019. You can continue to use our training materials on your own over the Summer break but we always advise working through these with your teacher to ensure you are on the right track. Your teacher can give you lots of help with the tricky Texture section that most young musicians find challenging.
If you would like to enter the piano competition, visit the web site to see what classes still have spaces. The higher grades are full but there are a few spaces in the other classes. On the day, you can meet lots of composers plus chat with the team from Trinity to find out all about their exams. If you are considering Kingsdale for secondary school, this is an ideal opportunity to see the impressive music facilities.
If you are a student at Harris Primary East Dulwich then we have a couple of spaces for piano lessons on Fridays. Please get in touch with the school reception to enquire further or contact me via the email address in the school newsletter.