Special Offer if you mention SE22 at the time of ordering: 10% discount.
Every now and then, a product comes along that is so incredibly useful that I think "why did nobody invent this sooner?!". Well this has arrived recently in the form of Naomi O'Brien of Neverbored design's creation, SoleMate Piano Footstool. SoleMate helps children achieve the correct posture when playing the piano or keyboard instruments. With so many of our students aged under 10, we have tried various 'home made' methods to address the issue of legs dangling in the air which leaves a student feeling unsteady and not grounded as they would be if they were able to place their feet firmly on the door. Another issue is that dangling legs also unintentionally kick the piano!
[youtube=https://www.youtube.com/watch?v=UPSbr818GBo]
In the past we have tried an IKEA step-up stool although this has to be placed infront of the pedals, so whilst providing a reasonable resting position, it was not adjustable for height and left some students with their feet too far back. We also own an A-Leg-Gro PED which is great for students that need to pedal before their legs can reach the pedal. Whilst it is adjustable, it was easy access to the pedals and it was becoming difficult to keep the students away from the pedals and there was lots of pedal pushing going on when it was not necessarily needed!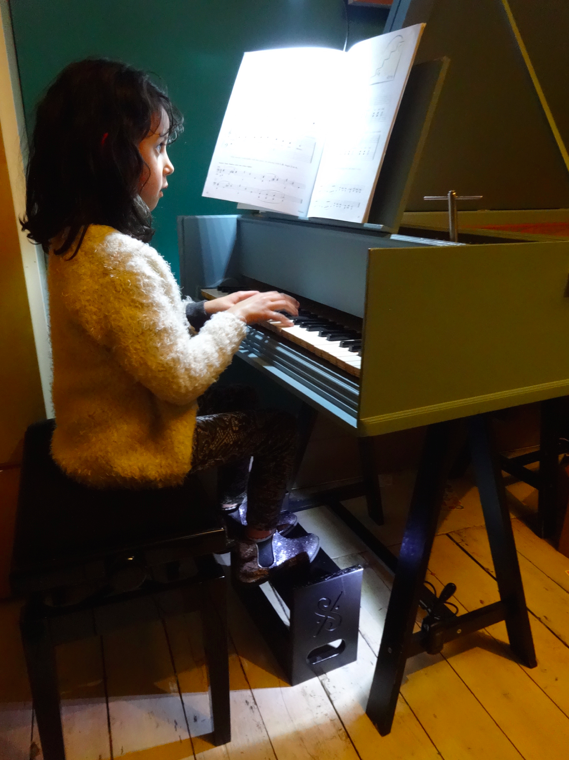 SoleMate has 3 settings which are adjusted by simply turning over the footstool to gain the required height – no fiddling or adjusting required. This allows the feet to support the stability of the body. It is compact and portable. Piano teachers will find this a vital tool when students are performing at festivals and competitions.
When I organised the EPTA Regional Piano Competition in January at The Warehouse in Waterloo, I noticed that the Suzuki students had a great, yet cumbersome, footstool that i presumed the teacher had made himself. It allowed for correct placement of feet but the large design in plyboard looked at odds with the sleek beauty of the Steinway Concert grand. SoleMate comes in two colours; oak and black.
SoleMate Piano Footstool is made by Naomi Thomas. Naomi Thomas was born in Cardiff, Wales. She graduated in 3D design from Plymouth University and worked for several design companies across Europe including an extended period working in Italy. After bringing up her young children Naomi recently started the Neverbored company. Naomi designs and produces every item in her workshop.