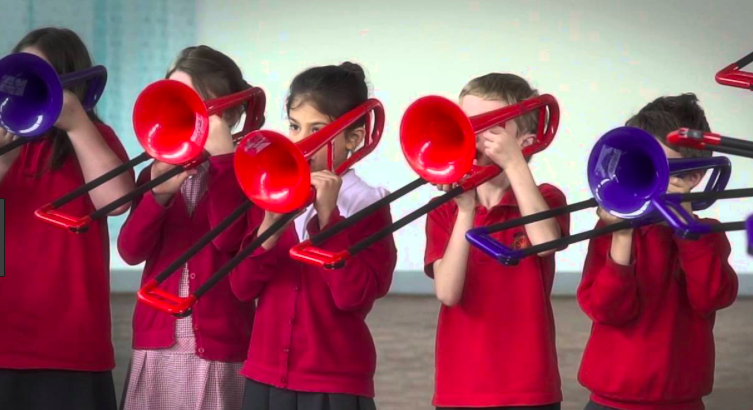 Many of our piano students sit the Music Aptitude Tests for local state secondary schools such as Kingsdale, Haberdashers & Prendergast and offer just one instrument at the audition. However the students that also have a second instrument to offer (including voice) are sometimes in a better position to acquire the full Music Scholarship place. For this reason, I have just started my daughter who is in Year 4 on the trombone as it's an instrument that is a lot of fun and also a bit obscure so there (hopefully) won't be loads of trombonists turning up to the audition. Also she has a cheap, lightweight pBone plastic trombone in a groovy colour so it's a fun instrument to play – who doesn't love the parpy noise that the trombone makes?!
If you're thinking about other lesser played instruments to get started on, well anything brass is always a good idea. pBone also do a plastic trumpet called the….pTrumpet!
The viola is a vital part of any orchestra but most young musicians tend to choose the violin, so do consider this often-overlooked instrument. Whilst many violinists will turn up to the music scholarship auditions, I think there will be far less viola players.
The world of percussion offers hundreds of wonderful and sometimes weird instruments to get to grips with. From the marimba to the tubular bells, there's a lot of transferable skills for pianists when it comes to percussion playing so if you are lucky enough to have a music department at school with some percussion instruments, do ask if you can give those a go! Kingsdale has a well-stocked percussion department and they also have an amazing steel pan band. Some local schools such as Dog Kennel Hill offer weekly steel pan lessons to students so do get involved as you can play this at the audition.
Don't forget that singing counts as an instrument and school music departments are always keen to find enthusiastic singers. Even if you don't think you have the perfect voice for a solo singer, most of the singing in schools will be in the choir so as long as you feel confident with holding a tune, this is a great offering at the time of audition. Pick a song you know really well and ideally try and bring a piano accompaniment as there is always a pianist available to accompany you. Ask at the local music shop for some tips or leave a comment on this blog post if you need any more advice!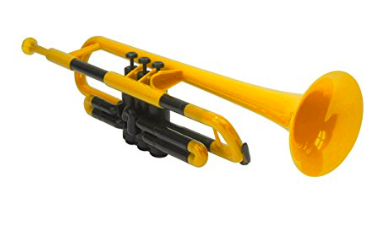 pBone mini trombone – around £80