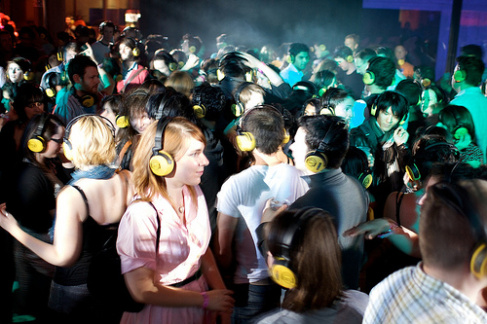 3 DJ's wirelessly beaming music to your ears! 3 channels to choose from at a flick of a switch on the headphones. 14 year old DJ Greatorex will play Jungle, glitch hop, 17 year old Tom will play chill-step and dance. If you don't understand that then good, you're not supposed to, just get your teenagers a ticket thru the festival website:
http://www.dulwichfestival.co.uk
Cost: £10. Also give your kids £5 for refundable headphones deposit and a bit of extra cash for snacks and refreshments. No parents or neighbours to annoy! Drop off from 7:30, and pick up by 10pm. St Barnabas Parish Hall, Dulwich Village Se21 7BT.
As 3rd DJ, Aquamanda will be playing current chart pop & disco classics. Aquamanda is CRB checked and plays regularly at The Rollerdisco in Vauxhall so does DJ Greatorex so it should be a great night.