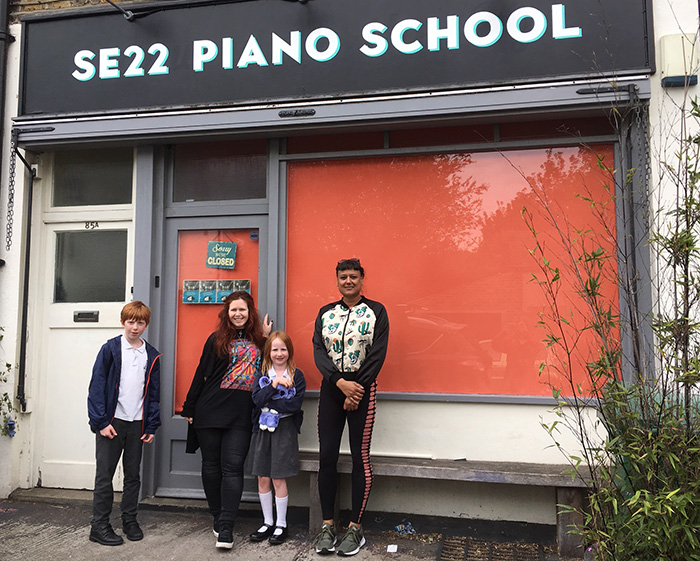 Living in London is expensive – there's no doubt about that. At the age of nearly 45, I am just over a week away from buying a house with my partner in Penge. Having lived in East Dulwich for around 17 years, I can't afford to live in this area anymore so I have moved about 4 miles away. Luckily Penge is not too far away by bicycle, albeit a very hilly ride home! As a self-employed musician, it has been incredibly difficult to secure a mortgage and the whole process has taken 6 very stressful months to come to fruition. My colleagues at the SE22 Piano School are all in a similar position of not yet owning a property and contrary to popular belief, we do not all live at the piano school. We all rent or live with family and once I move, only one of us lives locally. The rest of the team are 30 – 60 minutes travel away by public transport. We are all non-drivers.
I love our small team of teachers at the SE22 Piano School – they are excellent tutors, great at communicating with the parents, supportive co-workers and our students love coming to their weekly lesson.
The reason that so many of our tutors stay for so long at the piano school is because they are offered a supportive working environment plus they are paid for the hours worked whether the student comes to the lesson or not. As a freelance musician, it's not the most stable way to earn a living but by paying my team a set amount each week, they know that they have guaranteed hours and income from working at the piano school.
Our students also sign up to the same terms as a private school and the terms and conditions are clearly explained before you register. For example if you attend a local private school and you are sick or there is a family emergency that means you cannot attend school that day, you would not get a day's fees back nor would you probably ask for this. However some of our students do ask for missed lessons to be carried over or credited even though we regularly remind them that this is never possible. If I was to credit a lesson then this would mean your teacher goes unpaid for that session and I have to dock their pay. If I was to do this regularly to our team then I am fairly sure it would be impossible to retain any of my teachers if their pay was randomly docked.
We hope you understand this is a fair system for our teachers. We are only open 36 weeks of the year so we are unpaid for the other 16 weeks. To lose teaching income regularly when students are away would make it financially impossible for us to be music teachers. There is little demand for lessons during the 4 months or so when we are closed for school holidays. Of course we do other work to sustain us through this time but it is not a regular and reliable as having a set number of music students each week during term-time.
In our email auto reply it does state that we are unable to respond to emails requesting lesson credits/refunds/reschedules. This is because every single email represents a significant cost to the business to respond. As we have been very upfront with all students about the terms and conditions plus we remind you in every single newsletter about this, we are unable to respond to emails regarding this matter. We do not have the operating capacity for a full-time (or even part-time) administrator and therefore your teacher remains the first port of call for all enquiries. It is worth noting that many parents will bring their child to the lesson and see the teacher and say nothing but then send an email later that could have easily been answered by the teacher there and then. If we can avoid doing this it will help greatly for the smooth running of the piano school.
Thank you for taking the time to read this.