It's All About Piano! 2014
Weekend immersion in piano music with events ranging from recitals and masterclasses to film screenings and wine tasting
Institut Français, London 
Friday 4 to Sunday 6 April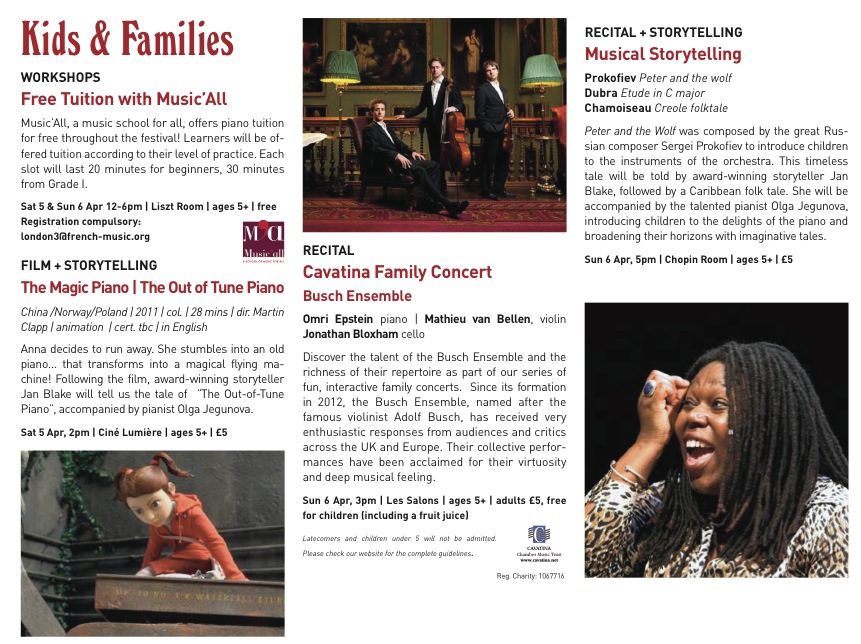 Free Tuition with Music'All
Music'All, a music school for all, offers piano tuition for free throughout the festival! Learners will be of- fered tuition according to their level of practice. Each slot will last 20 minutes for beginners, 30 minutes from Grade I.
Sat 5 & Sun 6 Apr 12-6pm | Liszt Room | ages 5+ | free Registration compulsory:
london3@french-music.org
The Magic Piano | The Out of Tune Piano
China /Norway/Poland | 2011 | col. | 28 mins | dir. Martin Clapp | animation | cert. tbc | in English
Anna decides to run away. She stumbles into an old piano… that transforms into a magical flying ma- chine! Following the film, award-winning storyteller Jan Blake will tell us the tale of "The Out-of-Tune Piano", accompanied by pianist Olga Jegunova.
Sat 5 Apr, 2pm | Ciné Lumière | ages 5+ | £5
Cavatina Family Concert Busch Ensemble
Omri Epstein piano | Mathieu van Bellen, violin Jonathan Bloxham cello
Discover the talent of the Busch Ensemble and the richness of their repertoire as part of our series of fun, interactive family concerts. Since its formation in 2012, the Busch Ensemble, named after the famous violinist Adolf Busch, has received very enthusiastic responses from audiences and critics across the UK and Europe. Their collective perfor- mances have been acclaimed for their virtuosity and deep musical feeling.
Sun 6 Apr, 3pm | Les Salons | ages 5+ | adults £5, free for children (including a fruit juice)
Musical Storytelling
Prokofiev Peter and the wolf Dubra Etude in C major Chamoiseau Creole folktale
Peter and the Wolf was composed by the great Rus- sian composer Sergei Prokofiev to introduce children to the instruments of the orchestra. This timeless tale will be told by award-winning storyteller Jan Blake, followed by a Caribbean folk tale. She will be accompanied by the talented pianist Olga Jegunova, introducing children to the delights of the piano and broadening their horizons with imaginative tales.
Sun 6 Apr, 5pm | Chopin Room | ages 5+ | £5