Each exam session, we receive lots of enquiries for an accompanist for our local exam centres in Brockley (Stillness School – ABRSM) and Forest Hill (Methodist Church – Trinity). Our teachers have good availability in the mornings and lunchtime for exam accompaniment but we are not usually available in the afternoons once we start teaching from 3pm onwards. It is easier to find an accompanist if you can reschedule an afternoon or evening exam time to an earlier time as soon as it is allocated.
Several of our teachers are available to accompany. Our colleague Chris Dann is also available for accompanist work in South London and can be contacted directly: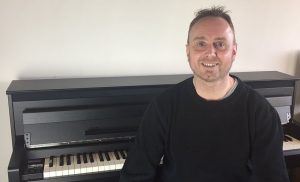 Hi! I'm Chris Dann, I'm a pianist and piano teacher based in Stockwell/Brixton, and available to accompany students in music exams in the South East London area.
I've always loved accompanying. As well as classical performances and exams, I've also played accompanist for countless jazz, pop and cabaret gigs. I'm a versatile musician and very much a people person, so accompanying suits me well. It's important to have an accompanist who can not only deliver a great performance, but who is reliable, professional, and who can remain encouraging and light-hearted when performers (and parents) are stressed and nervous! My 20 years experience in teaching means I work well with children and young people, and I am used to playing in exams and the exam system.
My standard fee starts at £80 which includes one rehearsal, practice tracks if you need them, and up to about 45 mins travel each way on the day. I am the musical director for Effra Road Chapel in Brixton (SW2 1BZ), which is a very convenient place to rehearse with parking and a big space with piano that I can use anytime, or you can come to me in SW9 0UY.
If you're looking for an accompanist why not drop me a line. I'm always happy to chat and give you information, with no obligation at all. You can contact me on 07786 562 022 or at chris@chrisdann.com.