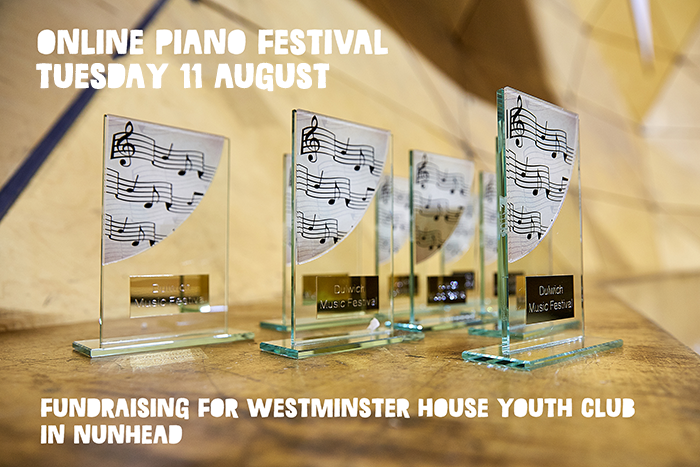 Please read this page carefully as it contains all the information required for the next online piano festival. We will answer all queries about the event in an update to this page on Monday 10 August at midday so check back at this time if you have a query that you have emailed but not received an answer.
We do not refund or reschedule any tickets if you are unable to attend the event as we have already donated all profits to our chosen charity (see donation on our Justgiving page).
~~
We have raised £175 for Westminster House Youth Club (WHYC) so thank you for entering this event and raising vital funds for the club that works with the vulnerable youth of Peckham.
Adjudicated by Lorraine Liyanage & Mirnalfonsina Grisolia (SE22 Piano School)
---
What to do next: Please email a photograph or scan of your piece to londonpianoevents@gmail.com by 4th August 2020.
How To Use Zoom:
We cannot provide technical support for Zoom so please ensure this is all working well before the event. You can install it and do a test call with a friend or your music teacher.
Rename your Zoom username:
On arrival into the Zoom room, please mute your microphone and then change your username to the following format so we can easily identify all participants. Remember to unmute yourself before you play. We will pin your Video so that everyone can see your performance.
GRADE 1 – ARTHUR MAY (Your Grade followed by Your Name)
If you are a teacher logging on, rename yourself to TEACHER followed by your name.
There wil be a lot of participants on screen so it will be easier for us to find everyone quickly if you rename yourselves. Here is how to rename yourself in Zoom:
https://teaching.nmc.edu/knowledgebase/changing-your-name-in-a-zoom-meeting
Log on to Zoom on Tuesday August 11th at 4pm. Anyone logging on earlier will be held in the Waiting Room so there is no need to log on earlier. Please do not share this Zoom link online or use it at any other time other than the competition time:
https://us04web.zoom.us/j/6085067439?pwd=MU5zMmdFZTc0T2dvNFpuZTJwRlcwZz09
Meeting ID: 608 506 7439
Password: se22piano
Nb. we cannot assist with technical help for Zoom installation so please ensure you have it up and running on your device before entering. You can install it and do a test call with a friend/teacher/colleague. Do not leave it until the day of the event as we cannot refund any tickets should you be unable to use Zoom.
E-CERTIFICATES
Download these here.
MEDALS AND TROPHIES
To be collected from 479 Lordship Lane, East Dulwich SE22 8JY on Tuesday 11 August from 6pm – 7pm. Use the side door next to Melford Passage to come round to the back of the building and collect your medal. This is the only date available for pickup of medals.
EVENT TIMINGS
The event takes place in the order below and we anticipate it will last around 75 minutes. You do not need to stay for the whole event but if you are in a later class, please ensure you do not miss your slot.
EVENT FEEDBACK
Feedback will be verbal. We will send the recording of the event to you shortly after the festival has finished. This recording will be online for 1 week but you can download it to your computer to save it to watch back at your convenience. How to download a Zoom file.
LIST OF ENTRANTS (Nb. no edits can be made to this list)
Grades 1 & 2
Ilinca Chante' Rusu – The lonely road by Felix Swinstead
Carla Kyei, Waltz by D.B.Kabalevsky
Grace Greaves Gospel Song by John Kember
Esther Greaves. Lesson in C. by Diabelli
Aven O'Shaughnessy, The Egyptian Level by Kevin Wooding
Reuben Ong: Waltz of the Toads by Kirsten Strecke
Patrick Bao (incomplete entry)
Annabel Jeffery (incomplete entry)
Alexander Bradburn (incomplete entry)
Felix Pope Holland. Piece is TBC. (incomplete entry)
Grades 3 & 4
Darshani Emuh ~ Holiday in Paris by William Gillock
Kimberley Ng – Chanson du Matin (Edward Elgar)
Nile Mansingh – Sonatina in A minor by George Benda
Alice Ong: Model T by Janet and Alan Bullard
Orestis Christomanos- Shadows (Walter Carroll)
Lam Vy Le NGUYEN (incomplete entry)
Sophia Ni (incomplete entry)
Miss Daria Dmitrieva (incomplete entry)
ARNAV GUPTA – A Kewla
Grades 5+
Sara Zhang, Film Noir, Mike Cornick
Wilfrid Whiteley, Prokofiev Ridicolosamente ABRSM G. 7 C2
Edith Whiteley – Passepied, Delibes (ABRSM, Grade 7 B1)
Maryclare Tan. Lentamente by Prokofiev
Elizabeth Li ~ Valse Tyrolienne by Francis Poulenc
Aidan Nagpaul (incomplete entry)
Austin Niu (incomplete entry)
Zihan Ma (incomplete entry)
---